The Banana Breakfast Smoothie is here to save you. We've all been there when you are too busy to actually sit down and have breakfast (not an ideal statement in the world of 'mindful' eating whoops..but this is reality..). This banana breakfast smoothie is your all in one breakfast. You can make it the night before or first thing in the morning and it'll kick start your energy, focus and concentration for the day.
Key Nutrients
Oats – One half cup of oats provides around 4-5 grams of fibre (females need 25g/day and males need 30/g). This makes it a fantastic breakfast option and provides 4-5 times more fibre than white bread! Not only that, but fibre helps to ease constipation and keep you regular, which also helps to lower cholesterol.
Cinnamon – Did you know that half a teaspoon of cinnamon daily can help to reduce blood pressure? Well it certainly can, so this versatile spice has a very welcome place in this smoothie.
Banana – Not only will bananas provide you with a good source of energy, if you've been exercising and working up a sweat, but their high potassium content also makes them a perfect way to replenish your electrolyte stores.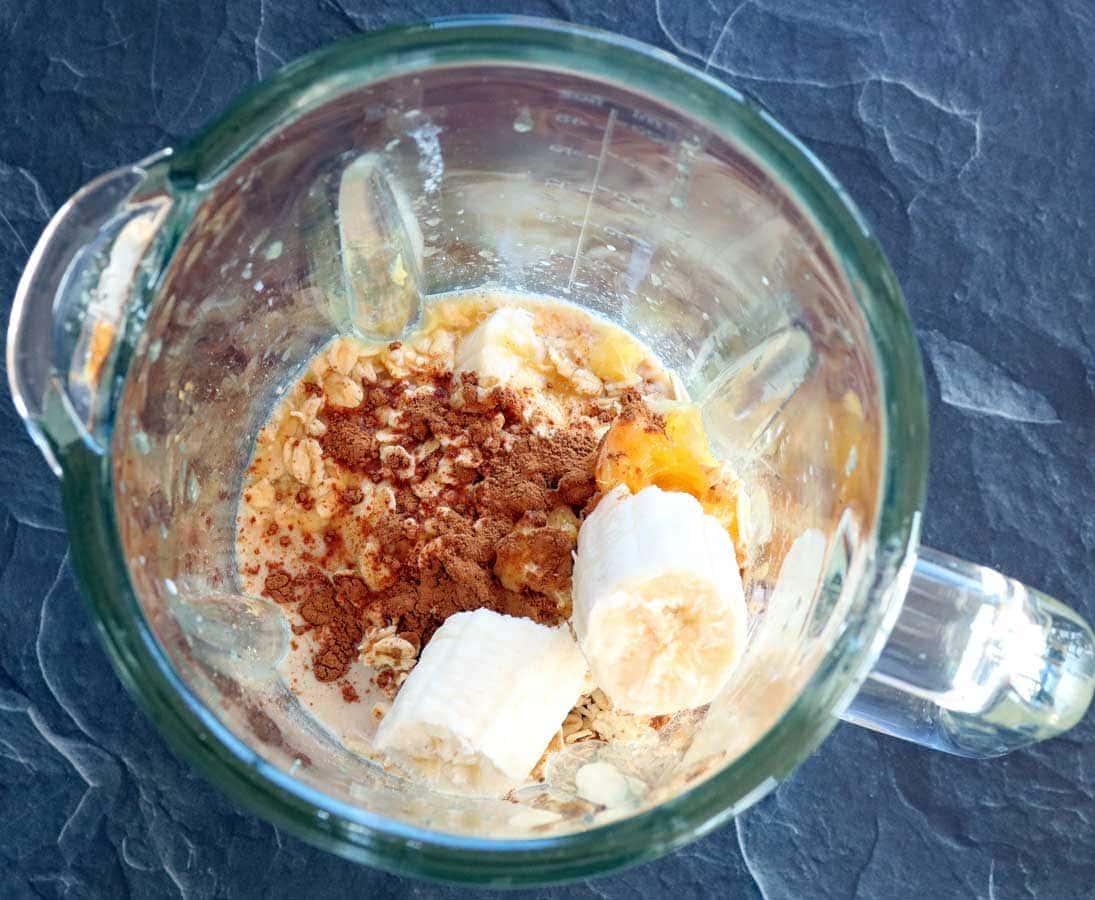 Recipe: Banana Breakfast Smoothie
Ingredients
1

cup

oats

1

orange

(juiced)

1

cup

soy milk

1

banana

½

tsp

cinnamon

6-8

ice cubes
Instructions
Starting with the soy milk, place all ingredients into a blender.

Blend until smooth.

I would love your feedback and comments below on this recipe and don't forget to tag me in your photos @amysavagenutrition
Notes
Essential Equipment
Blender
Tips
I use a standard cup measure. If you don't have one you can use a mug and substitute the amount for ¾ of a standard size mug.
Find your Ingredients
Soy milk – Milk fridge or long life milk aisle.
Oats – I use rolled oats from the cereal aisle or organic rolled oats in the health food aisle.
Cinnamon – Herbs and spices aisle
Banana – fruit and vegetable aisle
---
If you like this recipe, you might like to try these;
Amy Savage is a qualified Nutritionist with a Bachelor of Health Science in Nutritional & Dietetic Medicine specialising in skin health and is available for consultations online. Email amy@amysavagenutrition.com for further details.
References:
Akilen, R, Tsiami, A, Devendra, A & Robinson, N, 'Glycated haemoglobin and blood pressure-lowering effect of cinnamon in multi-ethnic Type 2 diabetic patients in the UK: a randomised, placebo-controlled, double blind clinical trial', Diabetic Medicine, vol. 27, no. 10, pp. 1159-1167, www.ncbi.nlm.nih.gov.