Broccoli & Cauliflower Mash
Hands up if you need some liver loving veggies in your life? Welcome to my Broccoli & Cauliflower Mash recipe. Ridiculously easy and ridiculously healthy, if you are looking for a detox recipe that you can actually eat, this side dish is perfect.
The compounds in broccoli & cauliflower help to stimulate liver detoxifying enzymes!
Not only rich in vitamins and minerals, but broccoli and cauliflower are particularly useful at supporting liver detoxification. The liver has over 200 functions and detoxification is just one of them. These processes are supported by your diet and lifestyle choices. Liver detoxification occurs in two stages; phase one and phase two. Both phases ultimately end up with toxins excreted in your urine or bowel movements.
The liver is a pretty hard-working organ and continually detoxifies itself naturally. Lifestyle choices can determine how much work you are essentially giving your liver to do. For example, if you love a weekend binge drink or work in a factory with exposure to chemicals, it's pretty safe to say that need more Broccoli & Cauliflower Mash in your life.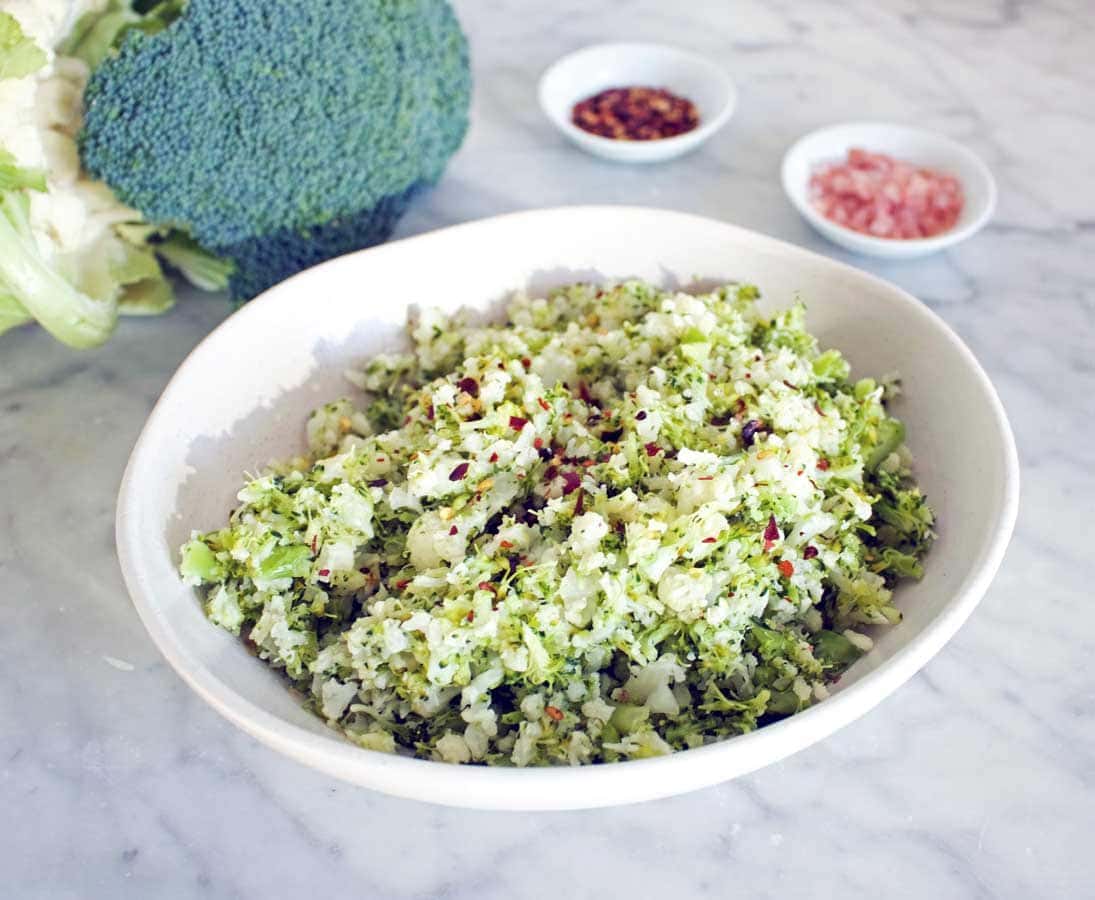 Broccoli & Cauliflower Mash - Key Nutrients
Broccoli & Cauliflower – Both members of the cruciferous vegetable family, broccoli and cauliflower are both rich in sulphur-containing compounds known as glucosinolates. The glucosinolates essentially help to activate the enzymes needed to liver detoxification in both phase 1 and part of phase 2 that is useful for detoxifying alcohol, toxic metals and hormones (for example; oestrogen, testosterone, DHEA and cortisol).
Extra Virgin Olive Oil (EVOO) – Full of the good fats known as monounsaturated fatty acids. But why EVOO rather than OO? That's just olive oil by the way… because OO is far more processed than EVOO meaning by the time it arrives in the bottle, OO doesn't have as much nutrient power as EVOO. EVOO also has a nicer flavour! Find my favourite brand of EVOO available in all major supermarkets here.
Broccoli & Cauliflower Mash
Ingredients
150

g

broccoli

(essentially for both broccoli and cauliflower its as much as you are prepared to eat, if you don't have scales!)

200

g

cauliflower

2

tbsp

extra virgin olive oil

(EVOO)

1

sprinkle

chilli flakes

(add as much as you like depending on how much heat you like)

1

sprinkle

salt + pepper
Instructions
Wash and chop broccoli and cauliflower and steam until soft enough to mash - approximately 5-10 mins.

Once cooked, place into a bowl or ideally drain water from saucepan used to steam and mash in the saucepan to retain heat (NOTE: steam rather than boil as this retains far more nutrients).

Once mashed, stir through 2 tablespoons of EVOO, sprinkle chilli flakes and salt & pepper.

Serve quickly as the veg doesn't retain heat for too long.

I would love your feedback and comments below on this recipe and don't forget to tag me in your photos @amysavagenutrition
Notes
Essential Equipment
Steaming saucepan or steamer
Find your Ingredients
Broccoli & cauliflower - fruit & veg aisle
Extra virgin olive oil - oils aisle
Chilli flakes - herbs & spices aisle
Ingredient – aisle
---
If you want more detoxifying and healthy recipes, you might like to try these;
Amy Savage is a qualified Nutritionist with a Bachelor of Health Science in Nutritional & Dietetic Medicine and is available for consultations online and in Sydney CBD. Email amy@amysavagenutrition.com for further details.