Ginger Nut Buckwheat Granola
Granola is surprisingly easy to make and preparing this recipe takes no time at all. Brazil Nut Buckwheat Granola is gluten free and adds the perfect crunch to your breakfast.
Research shows that almonds help to reduce hunger & overall calorie intake!
This antioxidant-rich granola has some added ginger and cinnamon to help support your immune function and regulate your blood sugar levels.
Ginger Nut Buckwheat Granola - Key Nutrients
Buckwheat
Raw buckwheat groats are a versatile gluten-free grain, despite being called buckwheat!
Buckwheat is a complete protein source making it the perfect inclusion at breakfast.
Buckwheat is high in antioxidants, magnesium and is well digested, making this an amazing grain to incorporate into your diet.
Brazil Nuts 
One 30g portion will smash your daily requirements of selenium.
Selenium is essential to detoxification and a brilliant source of antioxidants, helping to remove any toxins.
Almonds 
A really good source of vitamin E, with one 30g portion meeting approximately 50% of your daily requirements.
A research study has shown that almonds consumed with snacks or meals help to reduce hunger and overall calorie intake.
Ginger Nut Buckwheat Granola
Ingredients
1

cup

raw buckwheat groats / 160g

1

cup

brazil nuts / 110 g

½

cup

pumpkin seeds / 65 g

½

cup

almonds / 75 g

2

tsp

ground ginger

2

tsp

ground cinnamon

⅓

cup

maple syrup / 80 g

2

tbsp

coconut oil

Sprinkle

rock / pink salt
Instructions
Pre-heat oven to 160 degrees.

Place raw buckwheat in a large bowl.

Roughly chop the brazil nuts and almonds and add to the bowl with pumpkin seeds.

Add ground ginger and ground cinnamon.

Mix the spices into the dry mix so they are spread throughout.

Add the maple syrup and stir through dry mix until throughly coated.

Add coconut oil and stir through and a sprinkle of salt.

Line a baking tray with baking paper and spread the mixture evenly on the paper.

Place into the oven and bake for approximately 45 minutes or until browned and crispy checking every 15 mins and stirring through. Depending on your oven your might need to adjust the cooking time.

Once browned and crispy remove from the oven and allow to cool before placing into an airtight container.
Notes
Essential Equipment
Baking tray
Baking paper
Tips
I use a standard cup measure. If you don't have one you can use a mug and substitute the amount for ¾ of a standard size mug.
Find your Ingredients
Buckwheat – health food aisle
Maple syrup - health food, baking or condiments aisle
Coconut oil - cooking oils
Ground ginger & ground cinnamon - herbs & spices
Nuts - Health food or baking aisle
---
I love to sprinkle a few tablespoons of this over my overnight oats or chia for breakfast. It's also great for smoothie bowls or pancakes. For some breakfast inspiration, you might like to try these;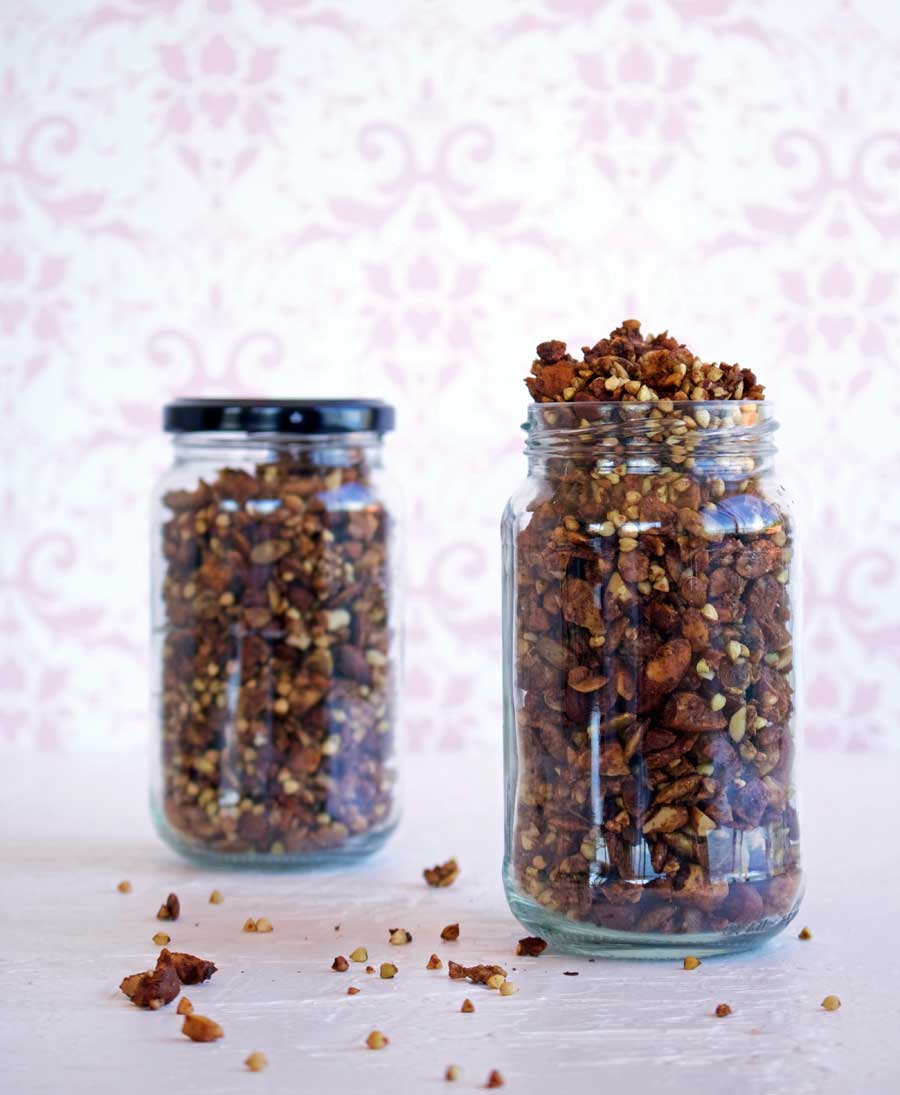 Amy Savage is a qualified Nutritionist with a Bachelor of Health Science in Nutritional & Dietetic Medicine and is available for consultations online and in Sydney CBD. Email amy@amysavagenutrition.com for further details. 
References: