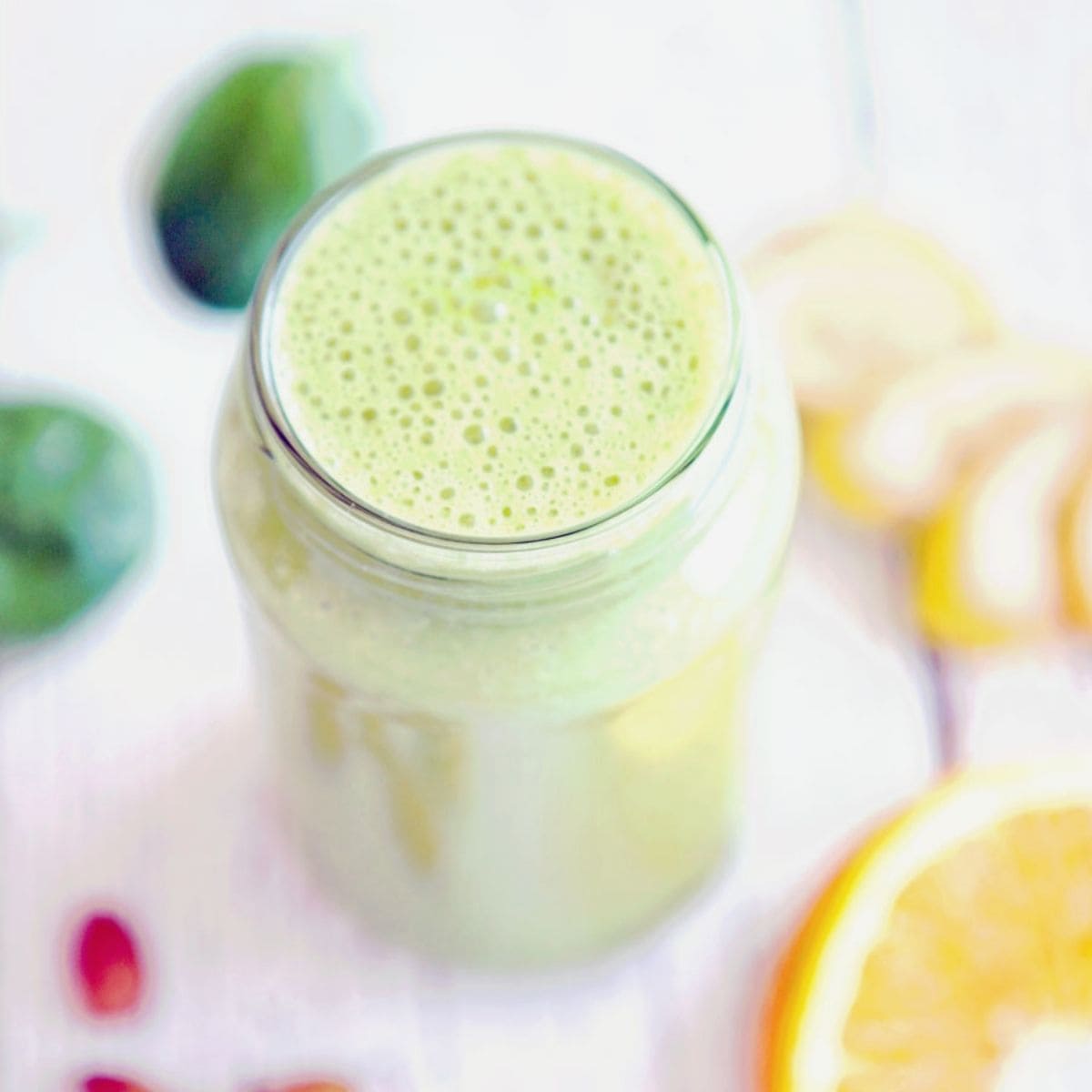 B-Vitamins are one of the prime nutrients needed to create energy and the Pick Me Up Smoothie is not only a good source of B vitamins but, contains over 100% of the daily recommended intake of vitamin C and 50% of the daily recommended intake of magnesium. These important nutrients help to boost immune function as well as support nervous system health and make the perfect little pick me up.
The Pick Me Up Smoothie is packed with energising B vitamins
Does the 3pm slump hit you feeling lethargic and in need of an energy boost? It can be easy to reach for the nearest sugar snack and what we really want is something that will give us a nice slow and sustainable release of energy. Smoothies are a perfect way to keep you going through the day whilst also boosting your overall nutrient intake. And another top tip, if you are feeling the slump, is to take a walk and grab 5-10 minutes of fresh air. It makes a BIG difference, so next time you are feeling the slump and are in need of a pick me up, aside from obviously making this delicious recipe, get some fresh air too!
Pick Me Up Smoothie - Key Nutrients
Orange – helping to support immune function, if you feel like you are always run-down/unwell, vitamin C is a really important nutrient to boost immune health. It's good to be aware that immune health starts in the gut!
Baby Spinach – leafy greens are an amazing source of antioxidants, vitamin C and minerals, in particular, magnesium, the nutrient essential for supporting nervous system health.
Peanut Butter – full of healthy monounsaturated fats and a good source of energising B-vitamins. I always recommend buying nut butter that is 100% nuts.
Pick Me Up Smoothie
Ingredients
1

cup

unsweetened almond or coconut milk

1

navel orange juiced

1

banana

1

cup

baby spinach

1

tbsp

peanut butter
Instructions
Juice one navel orange

Place all ingredients into a blender starting with the milk and orange juice and blend until smooth.
Notes
Essential Equipment
Blender
Tips
I use a standard cup measure. If you don't have one you can use a mug and substitute the amount for ¾ of a standard size mug.
Find your Ingredients
Almond or coconut milk - long life milks aisle or fridge
Peanut butter - spreads/health food aisle and I recommend choosing a brand that is 100% nuts (I love Pics or Mayvers).
---
If you like this recipe, you might like to try these smoothie recipes too;
Pear & Ginger (Immune Booster) Smoothie
Amy Savage is a qualified Nutritionist with a Bachelor of Health Science in Nutritional & Dietetic Medicine specialising in skin health and is available for consultations online. Email amy@amysavagenutrition.com for further details.