Chicken Pumpkin Salad
Easy for lunch or easy for dinner, the Chicken Pumpkin Salad is quick and easy to make for right now or for advance meal prep.
Contains approximately one-third of the recommended daily intake of fibre
Chicken Pumpkin Salad is nutritious and full of vitamins, minerals and antioxidants. The leafy greens, pumpkin, avocado, apple and walnuts also make it really high in fibre. Fibre helps to keep us feeling fuller for longer. It slows the digestive process, making it a good weight management tool.
Key Nutrients - Chicken Pumpkin Salad
Vitamin A – Pumpkin and baby spinach are both excellent sources of vitamin A in the form of beta-carotene, a nutrient essential for skin and eye health.
Vitamin C – Like vitamin A, vitamin C also plays a role in skin health due to its role as a co-factor in the production of collagen as well as being a potent antioxidant and supporting immune health.
Iron – Iron deficiency anaemia is one of the most common nutrient deficiencies worldwide and the Chicken Pumpkin Salad contains approximately 4mg of the recommended daily intake (females 18mg and males 8mg).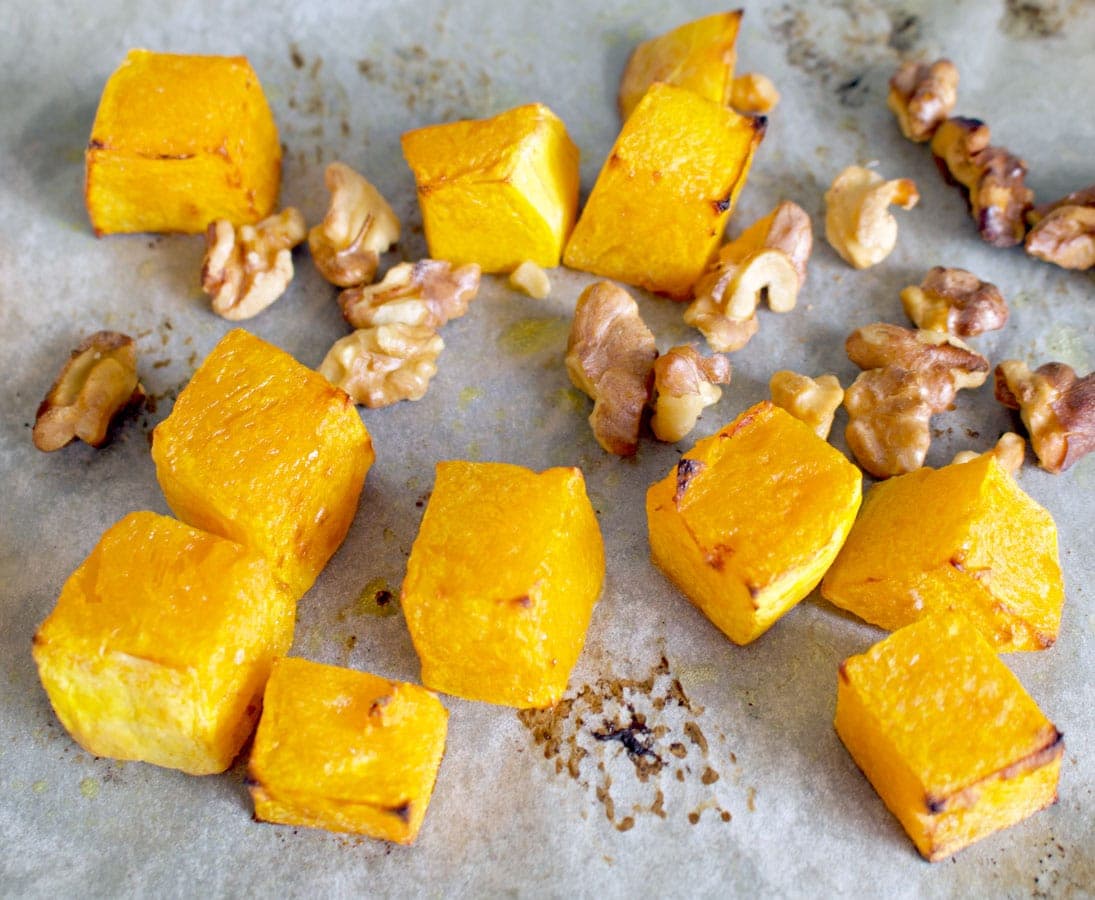 Chicken Pumpkin Salad
Ingredients
250

g

chicken breast

1

Spray

extra virgin olive oil spray

300

g

pumpkin

1

apple

120

g

baby spinach

50

g

walnuts

1

qtr

red onion

2

tbsp

balsamic vinegar
Instructions
Pre-heat oven to 180-200 degrees and chop the pumpkin into cubes, place on a baking tray and drizzle extra olive oil and roast until soft and crispy (approx 20-25 mins). Add the walnuts for the last few minutes to lightly roast.

Slice the chicken breast into strips and heat a frying pan or grill and cook for approx 10 minutes, turning and until thoroughly cooked.

Once chicken and pumpkin are cooked, add to a bowl with baby spinach, avocado, sliced apple, red onion. Once all ingredients are in a bowl drizzle with balsamic vinegar and serve.
---
If you like this recipe, you might like to try these;
Amy Savage is a qualified Nutritionist with a Bachelor of Health Science in Nutritional & Dietetic Medicine and is available for consultations online and in Sydney CBD. Email amy@amysavagenutrition.com for further details.